Ample Harvest: Using Technology and Excess Produce to Solve Hunger
15 Apr, 2012
Legendary broadcaster Edward R. Murrow once said, "The obscure we see eventually. The completely obvious, it seems, takes longer." One of those rare people who not only see but act on what was has clearly been invisible to most of us is Gary Oppenheimer. Since he founded AmpleHarvest.org, he has been named CNN Hero, has received major media coverage, has spoken at TEDx Manhattan, has been praised by First Lady Michelle Obama, and was even invited to the White House to meet the President.
What's it all about? AmpleHarvest.org matches the food pantries used by more than 50 million Americans living in food-insecure homes with the over 40 million people who grow fruits, vegetables, herbs and nuts in home gardens—and who often have an excess. Prior to the site, the problem was that gardeners could not find local food pantries (also called food shelves, food closets, food cupboards or food banks in some areas) to donate to, as many were not online. AmpleHarvest.org provides a central repository for these pantries so that gardeners can easily locate those nearest them.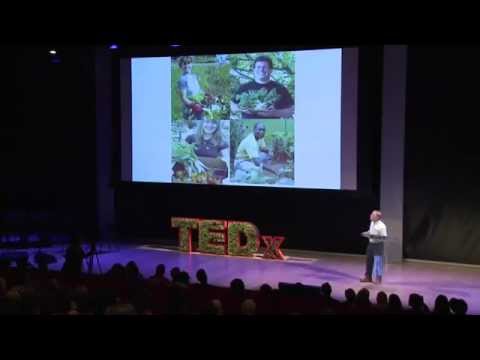 It is a singularly unique solution. And, as one might guess, it came from a singularly unique individual. "I am what my friends refer to as an aging hippy, and I refer to myself as a geek," Oppenheimer told Organic Connections. "I've always been involved in the leading edge of technologies. I'm also a Rutgers Environmental Steward, a long-distance bicycle rider, a Master Gardener and town Environmental Commissioner. One of my board members referred to me as the perfect nexus of geek and social responsibility, which is fine by me because that is probably what AmpleHarvest.org is all about: a combining of socially responsible actions with technology."
The mental catalyst for AmpleHarvest.org was a synthesis of Oppenheimer's upbringing and an observation he made right in his own town of West Milford, New Jersey. "As a child my parents were always telling me, 'Finish what's on your plate; kids are starving in Europe.' So, while growing up, I was inculcated with the idea of 'don't waste.' As a consequence I have always hated waste, and I've always hated wasted opportunities.
"In 2008 I was asked to take over the community garden in my town, which I did. In meetings with the people in the garden, several complained that they did not like the idea that, as the season wore on, more and more food was being left in the garden: people went on vacation; they got overwhelmed; they got bored, whatever. And this rolled off my tongue—I simply said, 'If we're going to have an ample harvest, the least we can do is give it to people who need it.'"
Oppenheimer found out this was easier said than done, and that discovery quickly led to today's organization. "I went about looking for food pantries in my town," he continued. "Google said the nearest one was in Morristown, New Jersey—25 miles away. I knew that was wrong. It dawned on me one night that if I can't find the food pantries in my own town, millions of gardeners across the country can't find them either. I got up the next morning and registered the domain name AmpleHarvest.org, having no idea what I was going to do with it. But I'd spent nine dollars to register it, and since I hate waste, I now had to do something so I wouldn't have wasted the nine dollars."
Wasting time isn't something that Oppenheimer does either. He himself did the needed research and provided all the content, while he recruited two others—a web designer and a web programmer—to help build the site. Within seven weeks, AmpleHarvest.org was up and running.
It quickly caught on. "On the 150th day, I already had 1,000 pantries registered," Oppenheimer related. "It was a bit of a balancing act: I had to get pantries registered and I had to get the word out to gardeners. But I nailed it, and yesterday we just broke through 5,000 pantries registered on AmpleHarvest.org. That means one out of every seven food pantries in America is now registered."
As evidenced by the attention Oppenheimer has received from the media, from government agencies, representatives of governments around the world, and even the President, the magnitude of what he is accomplishing is not lost. "I've been stepping back, and I keep seeing a bigger and bigger picture," said Oppenheimer. "In 2010 I realized that I had solved economist Adam Smith's posed problem of excess supply not meeting demand. I stepped back a bit further and realized it represents a fundamental change in the American food system—that locally sourced food already existing in place could get to the people who needed it in the community. It isn't that we didn't have enough food; the problem is that we didn't know we had the food to use."
Now AmpleHarvest.org is poised for even greater expansion—but there has been one barrier that must be overcome. "We have a program, a national directory of gleaning organizations, that's on the table," Oppenheimer explained. "We have printouts for the donors about the food being donated, also on the table. We have a program to put adopters in each of the communities. There's a whole bunch of pieces that we have ready to roll.
"But a frustrating thing has been that we've got this amazing program that everybody loves, but it's so far outside the box that the typical response from the food funding organizations has been, 'We love what you are doing, but we've never seen anything quite like it, so we can't help you. Keep it up!'
"The challenge becomes that, with your typical food program, you give a dollar and you expect to see a truck drive across country with food; whereas we're moving information, not food. Your typical food organization wants people on the ground. We're connecting dots, and you don't see the dots; we're moving electrons around; we're moving information around. So it's not like we can take money and spend it in the community, because we do everything at 10,000 feet; we don't touch the ground."
As soon as one or more of these funding organizations can see fit to step a bit outside what they're used to seeing, the rewards in terms of expanded operation will be considerable. "We are pennies on the dollar when compared to any other programs," Oppenheimer said. "Fully staffed out, AmpleHarvest.org will need five full-time employees on a national scale. With our budget properly configured, we need about half a million dollars a year for three years. That would cover everything required in terms of proper pantry management, grower management, media management, outreach and the administration.
"It's a virtual organization, so it operates on the same principles as we're doing with the food. We don't have a building. Everybody works out of a home office. This way we can find the best people where they are, not where we happen to be. So it's a very, very inexpensive model."
But the longer goal is being accomplished, and it represents a cardinal shift in our way of life—for the better. "The goal has been to simply make it so that we will do to 40+ million home gardeners in America what happened to you and me in the seventies when we were told to stop throwing stuff away and begin recycling," Oppenheimer concluded. "The net outcome is that not only are we getting food to people who need it, which otherwise would have been wasted, but we are also having an impact on hunger, nutrition, health and the environment. And it utilizes existing resources, which means it costs America nothing. That's what it really all boils down to."
For more information, please visit www.AmpleHarvest.org. Click here to view an episode of the PBS Program Growing a Greener World, featuring Ample Harvest.
AmpleHarvest.org was invited to create a video talking about the partnership between AmpleHarvest.org and Michelle Obama's Let's Move! initiative.  We really need people to visit www.AmpleHarvest.org/letsmovevideo and vote for our video.  If we make the top 10, it helps further promote AmpleHarvest.org's work to pantries and growers nationwide.  People can vote once per day through April 30.  The more people vote and the more often they vote, the better off AmpleHarvest.org, and by extension, the people of America, will be.
About the author