Diane Hatz: The Woman behind TEDx Manhattan
28 Oct, 2012
If you've seen any of the TEDx Manhattan presentations, you know how powerful and inspiring they are. Steve Ritz, founder of the Green Bronx Machine, painted a vision of edible walls and received a standing ovation. Sustainable pioneer Fred Kirschenmann focused on how soil is so much greater than dirt. Kavita Shukla took to the stage to show her revolutionary fenugreek paper that keeps produce fresh—an idea that is now sweeping the world. Various presentations on networking food pantries, food transparency, and many other subjects have galvanized live audiences and have been viewed online from thousands to millions of times.
But there's more to the story than what's seen on stage. It's the work Diane Hatz is doing behind the scenes. Hatz is the executive director of The Glynwood Institute for Sustainable Food and Farming, and the originator of TEDx Manhattan. "I hate to use the word formula, but there is a formula behinds the talks," Hatz told Organic Connections. "It works really well. I work very closely with all the speakers so they're trained and practiced, and by the time they get up on stage a lot of them give the talks of
their lives."
A Step Ahead
Interestingly, when Hatz had the idea to use the TED conferences as a platform for the sustainable food movement, no one else was quite sure it would work. "When I first introduced the idea, the board at Glynwood and the people in the food movement all just stared at me blankly, not knowing how big this could be. I thought it would be fantastic for the food movement. Fortunately, I had a very open-minded group of people around me who said, 'We don't know what you're talking about, but just go ahead and do it.'"
It's no surprise. Hatz is used to seeing beyond the norm. "I originally did marketing in the music industry," she said. "I'm into pop culture; I'm into marketing, basically. I think that doing campaigns and certain work is foreign to the nonprofit world. We're just starting to get into a place where people are learning that marketing doesn't necessarily mean only raising money. In order to get your work out to the public, you have to market it."
Beyond the Stage
From the beginning, Hatz planned it so that the inspiring talks given at TEDx Manhattan would receive the maximum coverage possible. "The video during the actual live event is extremely important to us," Hatz said. "There are viewing parties. While we had 14,000 computers tuned in the first year, for example, we can't say that represents one person watching a single computer, because some of the events had 450 people at them. So we had a massive number of people."
As any shrewd marketer might do, she has found ways to obtain maximum mileage out of these talks and to utilize them to educate as many as possible. "We're interested in getting to people the day of the event," Hatz continued. "But I look as well for ways to take these clips and actually use them as educational tools in schools and for people who want to know more about the issue. For instance, I've started another project called Dinner and Some Ed. Through it, one can host a sustainable dinner and watch food and farming videos. On the Dinner and Some Ed site you can click into a whole list of TED and TEDx talks; we even pulled not just TEDx Manhattan but all the best videos we could find on food and farming. We also made a DVD."
Hatz is currently ramping up for this coming year's TEDx Manhattan, which she thinks will be the most exciting ever. She gave us a taste. "We have a woman who is going to be talking about foraging weeds, and I'm really looking forward to her talk. She goes into her backyard and gets dandelions and things. She knows how to cook plants that we call weeds, which people in Europe call delicacies."
The Meatrix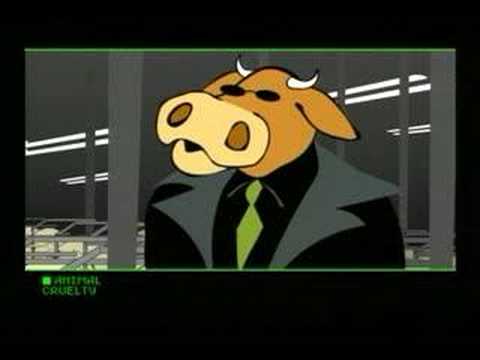 Followers of the sustainable food movement first became exposed to the work of Diane Hatz when, several years back, a series of Flash-animated shorts called The Meatrix became an Internet sensation. Hundreds of thousands of online viewers have watched the "Morpheus"-like cartoon cow guiding farm-animal protagonist Leo through "The Meatrix"—and exposing the stark truth behind the fabled white-fence-and-red-barn vision of factory farming.
"I had put together information on factory farming for Free Range Graphics, the company that actually physically did the movie," Hatz recalled. "They were reading it over in a conference room, and they were just so shocked by how horrible factory farming was and all the problems with it, that somebody in the room said, 'This is so much like The Matrix.' And as soon as they said 'The Matrix,' the entire movie was written. We were not expecting the response we got to it."
The Meatrix was part of an overall campaign developed by Hatz, who at the time worked at GRACE Communications Foundation. While it ended up taking on a life of its own, The Meatrix was in fact part of introducing two websites called Sustainable Table and the Eat Well Guide. Hatz had brought Sustainable Table about to educate the public on food system issues—something that, at the time (early 2000s), was hardly being done at all. The Eat Well Guide was an additional tool that allowed users to locate sources of sustainable food in their own areas, another first of its kind. Both are still online and accessed daily.
It was the shock of learning about the industrial food system that brought Hatz into the world of sustainable food to begin with. "I had been working in the music business before coming to work for GRACE," Hatz related. "When I got there, I started on anti-factory-farm work, which I knew nothing about. I had had no idea there were so many problems with the food supply. It was such an eye-opener for me that I became extremely interested in what was happening with food. I have a real marketing head, so I really wanted to get the word out to other people. That's what I've been doing ever since."
We greatly look forward to more from the innovative marketing mind of Diane Hatz.
To view videos of TEDx Manhattan talks, please visit www.TEDxManhattan.org.
To find out more about Dinner and Some Ed, go to dinnered.tumblr.com.
For further information on The Glynwood Institute, visit www.glynwood.org/glynwood-institute/.
About the author