Marc Koska: The Man Who Saved 9 Million Lives
01 Mar, 2010
Unique is a good word to describe Marc Koska. "Since I was a kid, I always wanted to get involved in a large intervention on a big scale," he told Organic Connections. "I was always looking for something. If I had lived 200 years ago, I would have wanted to be the guy who killed all the rats in the Black Death. And I started having that drive when I was about six."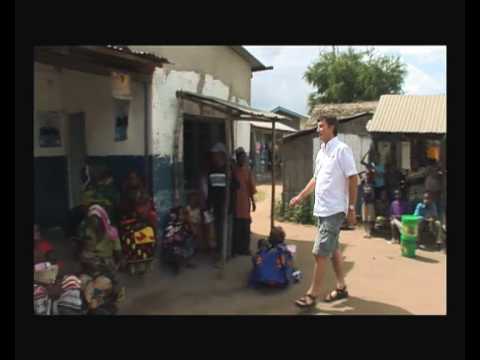 Unlike many others, Marc never forgot his dream; as a young adult, he was always on the lookout—and one day he stumbled upon it. "Years went by and I didn't really settle into anything because I was still waiting for my big moment," he recounted. "Then in May 1984, I read a newspaper article that discussed the fact that reused syringes would be a major transmission route for HIV. That was exactly the bit that I was looking for." Marc was 23 at the time.
A Widespread Crisis
Marc spent the next two and a half years simply researching the problem itself. The issue was that in many third-world countries syringes for dispensing drugs to treat diseases would be used more than once, in a very misguided effort to save money. Although it was widely known by medical authorities that such a practice was dangerous and contributed to the spread of disease, incredibly nothing had been done about it.
"In the problem areas, you have either a skilled or unskilled medical practitioner blindly giving an injection to someone; and the injection is so valuable that the person basically trusts the practitioner—being 'second to God' (which I've heard many times)—to do the right thing, but in fact it's not," Marc said.
The prediction from the article that Marc read in 1984, horribly enough, ended up being correct. The World Health Organization estimates that unsafe injections are responsible yearly for 230,000 HIV infections. Additionally they are the cause of 1 million hepatitis C and 21 million hepatitis B infections. But the worst statistic of all is that unsafe injections annually cause 1.3 million deaths—more than malaria.
Marc certainly had his work cut out for him.
He conceived the solution as an inexpensive syringe that could be used for only one injection and then disposed of. Knowing nothing at all about how syringes were made or how his potential solution could be implemented, he studied up on every relevant patent and syringe design. He visited a multitude of syringe factories and studied plastic injection molding technologies in depth. He followed syringes all the way from manufacturing to end use and waste management.
All the while he was conducting this research he needed to eat and have a place to live, as no one was paying him. "I was self-funded," said Marc. "You know, I was just a kid and I was doing some decorating, some housework and rough building work simply to keep it going."
At the end of the two and a half years, the penny dropped. "I had an epiphany while reading all the patents that existed from other people. That insight was that the syringe had to be made on existing machinery, it had to be made for the same price, and it had to be used in exactly the same way so that there would be no training barrier. When this all came together, the design for me was very easy. It took literally a minute to realize what it had to look like and do in order to deliver to those three criteria."
That design is ingeniously simple. The syringe looks like any other you may have seen, with one very notable exception: once the medication has been injected and the plunger has been pushed all the way to the bottom of the tube, if someone tries to pull the plunger back out to reload the syringe, it locks and breaks off, rendering the syringe useless.
Of course, it's one thing to have such a big idea—it's quite another to get it actually done. Marc labored for the next 15 years, butting up against vested interests and fixed methodologies, to actually begin producing syringes.
But through persistence his plan came to fruition. Since 2001, 1.8 billion K1 syringes have been sold from Star Syringe, the company Marc founded, and millions are used every day, providing single, safe doses of medicine that do not infect patients in the process. As a result, 9 million fatal infections have been prevented, saving an astounding 9 million lives.
The Second Problem
When the syringes were being produced, however, Marc encountered a whole other problem. "Once I had broken through the barrier of making the product, I thought we would be able to start a steamroller going and it would have its own momentum," he related. "I thought that governments would naturally go, 'Oh, this is cheaper than using a syringe that transmits disease and which costs a lot of money.' But it turned out, after even a few years of sales and selling it to UNICEF, that no one was actually telling the public there was a danger in reusing syringes. It's a little bit like putting a safety belt in a car and not telling anyone what it's for. So I then had to go out and give the information to the public, because they had no idea that they had to demand this product."
The result was the founding—once again by Marc—of the SafePoint Trust, a non-profit organization dedicated to educating millions throughout the world on the need for clean injections, with a goal that the over 40 billion injections given every year are given safely. The SafePoint message is delivered through existing networks in community education and healthcare, taking advantage of established infrastructure. Another arm of the organization, SafePoint Films, makes dedicated short films (one to three minutes) that spark reaction, inform and change behavior. The first film was made in May 2007 in India and has been endorsed by former president Dr. A.P.J. Abdul Kalam for nationwide distribution as part of an intensive safe-injection campaign in India.
"SafePoint has delivered the message into two countries so far: Uganda, where we've done very well and have changed the law, and now India, where we've changed the law on a public healthcare basis," Marc stated. "So all public hospitals and clinics have to use an auto-disable syringe whether it's made by me or not." To put this achievement into perspective, previously 62 percent of all injections given in India were unsafe.
SafePoint was formally registered in 2006 as a charity in the UK, but its work has long been established in its focus regions of India, Indonesia, Vietnam, East Africa and Pakistan.
Recognition and the Road Ahead
Marc has now certainly been recognized for his work. In 2006 he was made an esteemed Officer of the British Empire (OBE) by the Queen, in recognition of his outstanding contribution to global healthcare; while last July he was a featured speaker at the TED- Global conference at Oxford—a renowned yearly event that hosts top innovators in many fields from all over the world.
But as he himself will tell you, there is much more to be done.
"We still only represent a very tiny portion of the market," he said. "What's yet to be done is to get the big boys involved so that whether it's through my product or not, we create a much better market for these syringes and get them being used wholesale, across the whole scene, ensuring that everyone receiving an injection is not being betrayed."
What Marc—and the rest of the world—is faced with is the frustrating fact that, although the major movers such as the World Health Organization, UNICEF and the UN recognize there is a problem with unsafe injections, we are still years away from the needed resolutions, changes in policy and mandates being passed. "Preventable tragedy makes me angry, to be honest—as I'm sure it does you," concluded Marc. "It's a terrible waste, and there's still so much more to be done."
And as long as there is a need, Marc will be there doing it.
For more information on Marc, his life and activities, please visit his website at www.marckoska.com.
For further data on Star Syringes, see their website at www.starsyringe.com.
To learn more about SafePoint Trust, visit www.safepointtrust.org
About the author