Meet Birke Baehr: 13-Year-Old Organic Activist
20 Aug, 2012
You may have heard of Birke Baehr. At 11 years old, he became an Internet sensation when the talk he gave at the 2010 TEDx NextGenerationAsheville, called "What's Wrong with Our Food System," went viral, eventually racking up over 500,000 views—the most-watched TEDx talk of all time. Baehr astonished the audience with his very mature and intelligent take on our industrial food system and the vital need for sustainable, local and organic agriculture. Since that time, he has carried his message far and wide, through podcasts, public events and even his own self-published book, Birke on the Farm: The Story of a Boy's Search for Real Food.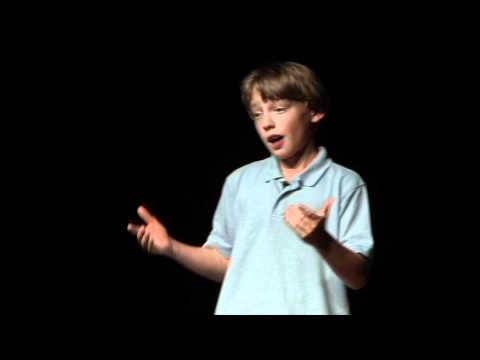 "I wanted to speak about our food system because once I learned the truth, I felt so deceived by the big conglomerates that I used to buy these products from," Birke told Organic Connections. "I remember thinking, 'This is crazy! What is this, this and this doing in our food?' I really felt like I'd been betrayed by these people I trusted—you know, the cartoon characters on TV when I was a young kid. I remember telling my mom, 'I just wish I could do something about it and tell people.' When I finally got the chance to speak publicly and talk about our food system, I jumped at it; it was such a great opportunity."
As you might imagine, Birke is no ordinary kid. Contrary to what some have assumed, his viewpoints on our food system did not come from his parents. In fact, his parents had almost no knowledge of our food system or organic food before Birke himself got into it. "My parents, they knew a little bit about organic food, but pretty much what they knew was that it was about two bucks more expensive than everything else," Birke laughed. "So they really weren't too thrilled when I started learning
about it."
The Rabbit Hole
Yes, Birke's journey was very much his own."It started back when I was nine years old, and I was looking over my mom's shoulder while she was logging on to her e-mail," Birke recalled. "I noticed an article about a university finding mercury in high-fructose corn syrup. I remembered kids in my third-grade science class going, 'Oh, don't break the thermometer in your mouth; it has mercury and it's going to kill you!' That was basically my epiphany right there. I was like, 'What the heck? What is something that can kill us doing in our food?'
"I starting going down the rabbit hole researching more and more about every single process our food was grown by, grown in, and what was used on it. I learned about corn, the way that it was grown—genetically modified, pesticides and herbicides. It just opened up a whole other world for me that I never dreamed was possible."
But learn Birke did—and ended up making converts of his parents. "I started showing my parents these facts on by-products that are put into the food. When I was around ten, I went to them and said, 'After learning all this stuff about our food system, the way that our food is produced, it just seems that it's so unhealthy for us. The only way we can get into eating healthy food that actually keeps our bodies from getting sick is to go organic." Their first thing was, 'Oh, that's too expensive.' So my next response—and it's one of everybody's favorite quotes from my TEDx talk—was, 'Well, we can either pay the farmer or we can pay the hospital.' That's pretty much what got them to change, and we started eating organic after that."
Birke's Advice
Birke offers advice to others who would like to convert to organic, based on his own and his family's experiences. "If you want to change the way that you eat, if you want to go organic, pick an area of your food," Birke advised. "Pick dairy, meat or vegetables. When we started going organic, just from the cost we couldn't simply change straight over to organic. So we slowly transitioned, getting all the bad food out of our pantry. As we went along I remember saying, 'Mom, we're 27 percent organic now!' Then, 'We're 83 percent organic!' And then, 'Oh man, we're 99.999 percent organic!' It was great to be able to see how it progressed."
As a result of all he discovered about our food system, Birke made a decision concerning his eventual career. "I really started getting into the whole local and organic food movement around my area," he related. "I would go to local farms and watch people working in the heat, picking bugs off cabbage leaves, and things like that. I admired them so much for the hard work they committed themselves to do. It was so great to see people that actually put themselves toward such a noble cause and movement.
"One day we were driving home from one of these farm visits, and I just looked at my mom and said, 'You know what? I don't want to be an NFL football player anymore; I want to be an organic farmer instead. That way I can have a bigger impact on the world.' And she simply looked at me with this face, like, 'Did you really just say that?' And it's kind of funny, because I look back at it now and I'm so happy I made that decision, and I feel so proud that I said those words."
Sometime after Birke became involved in finding out about our food system, he met up with his idol, famed farmer and author Joel Salatin. "He's a farmer that I really admire and look up to, just for the way he respects the land and treats the animals that he farms," said Birke. "You drive down the country roads to his farm and you'll see these big industrialized factory farms and you'll notice the difference, and it's so unreal. You go to his pastures and you see the cows frolicking through the fields, eating the great grass that they're actually meant to eat, instead of being closed up in metal barns without much sunlight or fresh air, eating corn that ends up putting E. coli in their gut flora. You look at the difference between Joel and these industrial farms and see that he's doing it the right way."
His recent rise in fame allowed Birke to spend some extra time with Salatin. "The last time I went to Joel's farm was to be filmed in a documentary I'm going to be featured in soon," he said. "I finally got to meet with Joel, and got to work with him that entire day for the film. It was a great opportunity."
Birke's future is now firmly grounded in getting our food system turned around. "As of now, I see my role as spreading the message of organic and local food, and how I want to change our food system," Birke concluded. "What I really hope for is that as I get older, there will be more people going out talking against the conventional and industrialized ways. Once I pass college age I'd really like to have my own organic farm, and at the same time still speak publicly about organic food."
For more information on Birke Baehr and his many activities, please visit www.birkeonthefarm.com.
About the author