Solar Power—Taking It to the Street
26 Sep, 2010
There is a constant problem in many geographic locations when it comes to solar power: where to place enough solar panels to collect sufficient energy to really make a difference. One husband-and-wife team has come up with an astounding solution: installing these panels on our roadways. As solar collectors, our highways could effectively provide adequate power for the entire nation—and pay for our roads in the process.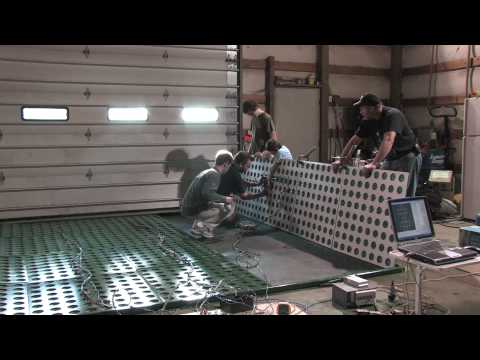 Sound like science fiction? A few years back it might have. But today, the bright idea of Scott and Julie Brusaw has the Federal Highway Administration paying close attention—and providing funding as well.
The Idea That Wouldn't Go Away
The couple met when they were toddlers in Buena Park, California; Julie's family lived right behind Scott's, and they shared a backyard. Julie's mom used to babysit Scott.
"We went to Sunday school and preschool together and were in the same first-grade class," Scott Brusaw related to Organic Connections. "One of my favorite toys at that time was my little HO scale slot car track—the little electric cars on their electric rail. My six-year-old mind at the time thought, 'Man, wouldn't it be great if roads were electric so kids could drive!' It stuck with me. When we were going to Sunday school and preschool together I would draw pictures. I've still got some old pictures in which I was trying to visualize an electric road."
The years passed. Scott's family moved to Ohio, but Scott and Julie remained in touch through letters. Scott attained a master's degree in engineering. The two reunited and got married and eventually settled in northern Idaho. Climate change became an issue, and Scott and Julie, in their off time, would study up on what might be done about it.
Then one day Julie recalled Scott's childhood vision—with an added twist. "We were sitting out in our garden one day," Scott recalled. "Julie turned to me and said, 'Can't you make those electric roads you've always dreamed of out of solar panels?' At first I said, 'No. Solar panels are very fragile and you can't even step on them, let alone drive on them.' So we started batting this idea back and forth and thinking of things like a black box on an airplane. That's a little case that houses sensitive electronics through the worst of airplane crashes and protects them. If we could make a bigger version of that—a structurally engineered compartment for solar cells that would withstand the beating of an 18-wheeler—then, yeah, we could make a solar panel that you could actually drive on.
Reality Check
Scott and Julie started giving the idea serious consideration. Scott contacted the two top materials research labs in the country—at the time Penn State University and the University of Dayton—and paid them personal visits.
He learned a great deal about the properties of glass. "Like everybody else, I thought about glass in terms of a window, and what would happen if you laid it down and poured water on it," Scott said. "If this were a road, the first time it rained everybody would slide off it. That's just our conception of glass. But I learned that glass has many different properties. For example, most of us have heard of bulletproof glass. I saw glass that would bend like a sheet of paper, and many other wild things."
On the visit to the University of Dayton, Scott found them working on what was called bomb-resistant glass; for vehicles in war scenarios, a bomb could go off at point-blank range and the glass wouldn't blow inward creating shrapnel for the vehicle's occupants. One researcher on that project looked over Scott's specs. "He said we could take that formula, tweak it a little bit, lay it down on the road and it would take anything an 18-wheeler could do to it," Scott recalled. "That was exactly what I wanted to hear."
The project began progressing from there. "I knew then that we could take this glass surface and put solar cells underneath it," said Scott. "They wouldn't be touched by the traffic and they would just collect power from the roads that are baking in the sun anyway.
"Then it started getting exciting, because you had this casing and you could put anything you wanted in there. We're generating power, so we could put in electric circuitry. My wife and I are in our fifties now, and we live on a long, winding mountainous road. It's hard for me to see at night, and when it rains, forget it; I can barely see where the edge of the road is. They don't come through and paint these lines but every few years. So we thought, what if we put LEDs in there so that we could illuminate the road lines from underneath, like driving on a video game? It would be real easy to distinguish where the road is, where the lines are, and where you're supposed to be.
"Because the display on the road can change, you could also have sensors that would detect when something was on the road. Where we live there are a lot of animal collisions: deer, moose—and people hit a bear every once in a while. So let's say I'm driving home one night and a deer walks around the next curve. A particular panel could begin flashing, and it could talk to all the other panels up ahead, and it would know where the cars are because it can sense them too. It knows there's a car approaching that curve. It can tell the panels up ahead to flash 'slow down' in front of that driver; then he or she will know that there's something around that next curve and be ready for it."
The road would have many other properties as well, such as the ability to heat up in winter months and melt snow and ice, eliminating the need for snow removal equipment and making roads far safer for drivers.
Into the Real World
Not having any clue on marketing, yet thinking they might have one of the greatest ideas to come along in modern times, Scott and Julie did the first thing they thought of: they put up a website. The website got coverage from another site, Treehugger.com, and that article was seen by consulting firm Booz Allen Hamilton. Scott got invited to the company's headquarters in Virginia to do a one-hour presentation. In the audience was a representative from the Federal Highway Administration, who invited Scott to deliver the same presentation to them.
"At that point, we didn't even know if what we were proposing was possible yet," Scott remembered. "I thought we should go ahead and do that presentation, because if anybody was going to shoot us down it would be the Department of Transportation [the Federal Highway Administration's parent organization]. We went there and did it, and there was about an-hour-and-a-half Q and A afterward. Not only did they not say it couldn't be done, they were helping us, bouncing ideas off of us, such as retrofitting existing roads with these things—they could simply be laid over existing asphalt."
After the presentation, Scott and Julie returned to Idaho and went back to their day-to-day lives, pushing on the project part time. Close to a year later, the federal Department of Transportation, running very short of money to sink into roadways that provided no reciprocal income, sent out a solicitation for ideas for roadways that would pay for themselves within their lifetimes.
Scott got in touch with the DOT and explained what they were doing. "We did some calculations on how we could actually make solar roadways pay for themselves over their lifespan, which we're shooting for at 20 years—not that hard. You lay these things down and they start generating electricity, and now two things are happening: you're getting rid of petroleum-based asphalt, but far more significantly, the more solar road panels you install, the less coal you're using to generate electricity."
The DOT was sold, and Solar Roadways got their first funding. They were off and running!
The Road Goes On
At this point, they have built a prototype, and a video of it can be seen on their website. Scott and Julie are now looking for their next round of funding, which would enable them to exactly formulate the glass surface needed for the roadways.
They are seeking funding from numerous sources, but recently GE announced what they are calling their "Ecomagination Challenge." The winner of this challenge could win up to $200 million to fund his or her project. It is based on voting from the public—and so Scott and Julie are asking everyone to vote for Solar Roadways before the end of September. The link is below.
"The final stage is developing that surface," Scott concluded. "Jimmy Carter put solar panels on the White House in the seventies, and we've had heating elements in back windows of our cars for I don't know how long. We're surrounded by microprocessor-driven LEDs. So all the technology we're using is old stuff except for that glass surface. If we could get GE to fund our project, we could be on the highways in just a few short years."
And that would be a major accomplishment for sustainable energy.
To find out more about Solar Roadways and their progress, visit their website at www.solarroadways.com.
To vote for Solar Roadways in GE's Ecomagination Challenge, visit http://www.solarroadways.com/vote.shtml.
About the author