Taking the Harm out of the Farm
04 Dec, 2011
You can take Eric Herm out of Texas, but the farm he grew up on never left his heart. After some time away preparing for a career in broadcast journalism, the farmer's son came back. When he did, he found that the practices that had been in place for some forty years were severely harmful to the land, the crops, and to human life. He is now making the remarkable journey from chemical to sustainable, and doing everything he can to bring others with him. His experiences are documented in his book Son of a Farmer, Child of the Earth, as well as on his blog of the same name.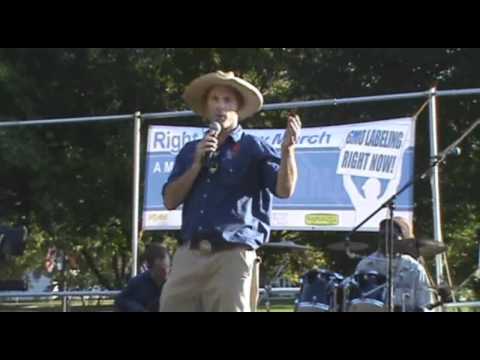 Like most of those in his West Texas region, Eric's family farm specializes in cotton. "When I first returned to the farm, I didn't know it was going to be my career," Eric told Organic Connections. "I came back just to help my dad out for a couple of years. Both my dad's parents were in bad health and he was having a hard time recruiting farmhands. Soon it just grabbed hold of me, and I realized this is really where I needed to be. I saw the need for more young farmers; there were a lot of challenges, and I felt that it was something I couldn't walk away from."
Genesis of Change
As did the majority of farmers, Eric's father utilized standard industrial methods. It wasn't long after his return, however, that Eric discovered how damaging those procedures were. "I was just following accepted ways when I first came back," Eric said. "We'd planted a little bit of Roundup Ready* cotton in 2005 and 2006, just trying it out. But in 2006, I happened to read all the warning labels on the bag. I was like, 'What is this stuff I am putting in the ground here?' I started looking around on the Internet and reading books—especially those by Jeffrey Smith [well-known author and activist on genetically modified crops]—and found that I was contributing to a huge part of the problem."
Once Eric understood more about GMOs, he couldn't in good conscience continue planting them. "I told my dad going into the next year that I'd never touch the seed again," he said. "And we haven't."
With the discontinuing of GM seeds, Eric realized early on that he wanted to make the whole change to farming organically. But it's a tough sell on a commercial farm that's never done anything but chemically based farming, and he found he had to approach it gradually. "I couldn't talk my family or any landlords into going organic," said Eric. "So I ended up buying 250 acres so that I could do it myself." After he got the new land producing, Eric started bit by bit making changes on his father's 6,000-acre operation.
Having cut out GMOs, Eric then took the next step of convincing his dad they should drop chemical pesticides. "In the years before we stopped, we were spending between $30 and $40 an acre on pesticides," Eric recalled. "The first time you spray, it kills all your beneficial insects, so you end up with aphids. Then you've got to spray for aphids; then two weeks later you've got another flair-up of bollworms or beet armyworms or whatever else comes along. It's just a vicious cycle.
"One thing that propelled me down this path of organics was studying insects. When I first moved back to the farm in '05, Dad put me in charge of being the bug scout. I went to a three-day school on it, but I really discovered more on my own. I found that bollworms—our main enemy in cotton production—don't have a pancreas. They can't digest sugars, so sugar water and molasses will kill them just as easily as a pesticide will."
In addition to being far more friendly to the environment, this natural pest-control method also proved substantially more cost-effective than the chemicals they had been previously applying. "I achieved that success with pretty much $2 an acre, compared with the $30 to $40 an acre we had been spending," Eric said.
Not long after that, and with his dad's blessing, Eric weaned the farm off chemical fertilizers as well, instead providing natural nutrients to the soil to make the plants healthy. "We use an organic fertilizer company I have been doing business with for years, named Texas Earth. They make a compost tea, which is the most efficient way I've found to help these plants grow."
Similarly to some other sustainable farming pioneers, such as Bob Cannard, Eric has also learned that healthier plants deter damaging insects. "Insects see in infrared and ultraviolet energies, so they can perceive energy levels in plants," he explained. "That is how they decide where to go and lay their eggs when they're moths. When you have healthier soil and crops, harmful bugs are going to bypass your field for the most part, and you're going to minimize your damages."
As he sees how sustainable methods are affecting the farm, Eric's father is becoming more open to them. "I'm not where I need to be—I have no delusions about that," Eric said. "But we don't use pesticides, we don't use commercial fertilizers, and that's over 6,000-plus acres. This was a huge step, because trying to sell it to my dad, who's been farming for forty years, wasn't easy. But my dad is pleased. I'm out there counting, looking at these plants on a daily basis, and there's no doubt in my mind that we're improving the plants and the production, as well as improving the quality of life in the soil. We're finding earthworms in these fields the last couple of years, whereas before, that never happened."
Writing and Sharing
While Eric has been making his journey, he has been writing it down and is now sharing it through his book and blog. "I was asking dozens of questions, and I found out that a lot of guys couldn't answer some of these questions," he remarked. "We were using more chemicals than ever, but yet here we had more insects and weeds than ever. It seemed like the land wasn't as productive as it had been when I was a kid, with the same amount of rainfall. On top of that, I became frustrated because I was making all these discoveries, not only about GMOs, but about organic farming, natural fertilizers and healthy crop rotation, and I felt that many farmers had really lost touch with what we were. We somehow at some point turned into producers instead of farmers, and became an extension of our machines and these chemical companies instead of an extension of the land. I channeled a lot of these frustrations into my writing. I knew there were others out there who thought the same way, and it's really about enough of us like-minded individuals connecting up and being the teachers to spread this word, to change agriculture for the better."
The Spiritual Connection
Through it all, Eric has also discovered a truly spiritual connection to the land—and it has become his key motivation for continuing his sustainable farming efforts and disseminating his message to the world. "Being gone from the farm for so many years, I don't think I truly grasped what I had out here," Eric concluded. "But coming back I've been amazed at my connection with this place, with the earth, with the land. I've come to so many realizations that we are nature, we are an extension of nature. We've been working so hard for so many years to consider ourselves superior by manipulating and dominating aspects of nature. I realize what a kindred relationship we can have when we're working and learning from nature, and trying as hard as we can to imitate her. It's a relationship that I hope more people will explore, because it opens us up to a higher aspect of ourselves."
Eric Herm's book Son of a Farmer, Child of the Earth is available from the Organic Connections bookstore.
Read Eric's blog at www.sonofafarmer.com.
*Roundup Ready: Crops that are genetically engineered to be resistant to Roundup brand herbicides manufactured by Monsanto. This technology allows the herbicide to be sprayed freely across a field, killing the weeds but not harming the crops. As this technology is used, however, weeds become more resistant to the herbicides, requiring increasingly higher amounts of chemicals.
About the author