Truck Farm: Urban Agriculture on Wheels
29 May, 2011
As Organic Connections has been reporting, urban agriculture is becoming ever more popular. A very interesting testament to this trend is a recent documentary called Truck Farm, which chronicles the building of a produce garden in the bed of a 1986 Dodge pickup truck in Brooklyn, New York, and then follows the truck around New York City on a mission of discovery of some wonderful, wild and even quirky urban gardens.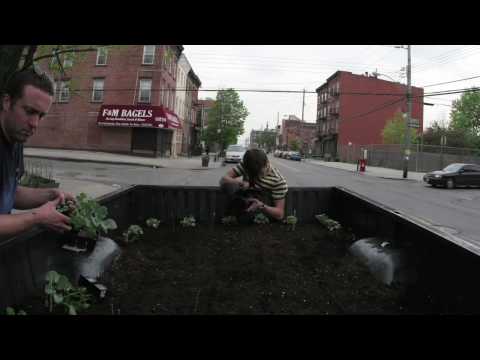 Truck Farm was the brainchild of documentary filmmaker Ian Cheney, co-star and co-creator of the acclaimed 2007 documentary King Corn. "I moved to New York City not long after making King Corn," Cheney told Organic Connections. "I had a strong urge to grow something other than corn and didn't have any place to do it in the big city. So I took a good long look at the old pickup truck that my grandfather had given me when I finished college and decided to give it a shot. From that very simple desire to grow a bit of my own food emerged this film and education project called Truck Farm.
"The film emerged as the crops were growing and as we started learning that there were more and more people around the city who were growing their own food. The film actually grew out of the garden."
The Movie
This is not your normal documentary, however. From the very beginning, it is narrated in folky, humorous song between each segment by a musical group known as The Fishermen Three. It makes for a very different—and extremely fun—watch.
"We wanted the storytelling style in the film to mirror or echo the whimsical nature of the truck farm itself," Cheney explained. "So it seemed like creating silly songs was the most appropriate way of telling the story about the silly farm in the back of a truck. It made the film that much more fun to produce. My musical collaborators are my brother and my old college roommate, and we all wrote the music together because it was very much a part of the narration of the film."
The first part of Truck Farm dedicates itself to showing the farm being built—including the issues unique to putting a garden in the bed of a truck. Interestingly, the technology found most appropriate is the same as for placing a garden on the roof of a building. It begins with holes drilled in the truck bed, followed by the installation of a layer called a root barrier, along with an erosion blanket and a drainage mat and cups. Next is laid a blend of Styrofoam, gel, organics and clay, which is lighter than—but retains the functions of—soil, on top of which is placed a six-inch layer of good topsoil.
Once the truck farm is fully planted, we see its first crop grow—rendered in time-lapse photography, courtesy of the truck farm's solar-powered camera, which snaps one still of the garden every hour. The crops include arugula, basil, parsley, tomatoes, lavender, peppers, sweet peas and more. The truck then hits the road and becomes a catalyst of interaction with some of New York City's most interesting produce gardens as well as leading proponents of local, sustainable agriculture.
The first stop is the apartment building of famed nutritionist and author Marion Nestle—as it happens, the first subscriber to the Truck Farm CSA—who walks us around her own balcony garden. We are then off to meet Ben Flanner, who left a career at E*TRADE to operate his substantial rooftop garden full time. Next we visit Red Hook Community Farm in Red Hook, Brooklyn, where farmers, volunteers, school students and interns are growing food for sale to the community.
We then hit one of the most interesting stops: the Waterpod Project located on a floating barge, at the time docked at Staten Island but regularly visiting five different locations around New York City. The object of the project is to be a place where four people can live completely autonomously for six months without having to leave the barge, and a wide range of crops are raised right there on the barge to feed them.
After that, we cruise over and take in the Chelsea Window Farm Project, creators of a system that allows food to be grown year-round in vertical farms that occupy windows. One farm consists of top and bottom horizontal pipes that act as reservoirs for a mixture of water and liquefied compost; vertical columns feed the mixture to plants, grown hydroponically in converted plastic bottles. A whole window farm can be set up in a large window for $100–$125 and in season will provide a salad a week.
A stop is made in front of the famous Blue Hill restaurant in Manhattan, where Chef Dan Barber himself comes out, samples the produce and praises it highly.
The film concludes with the story of a couple from Denver, Colorado, who recently read an article on Ian's truck farm and have built one of their own. Just before credits roll, we see children swarming around Ian's truck farm back in Brooklyn, excitedly checking it out and tasting the produce.
Beyond the Film
The film's ending actually makes for a neat segue into the continuing adventures of the truck farm project—for it definitely didn't end with the movie.
"The truck farm has been a really surprisingly powerful and useful tool for engaging kids in thinking about where food comes from and in understanding the principles of farming and of sustainable farming methods in particular," Cheney related. "We of course don't use any artificial chemical fertilizers or pesticides, and though we haven't had it certified organic, it is emblematic of an alternative to industrial agriculture. I think children learn pretty quickly that, although farming has its challenges, the principles of growing food—healthy soil, plenty of sunshine and plenty of water plus seeds—are easy to grasp and excitingly easy to access. So we've had kids planting gardens in unusual little places as part of our Truck Farm Garden Contest, as a way to get kids thinking about what it takes to grow food and what goes into growing food."
The ongoing truck farm campaign includes the creation of a fleet of truck farms all across the country—now numbering a score and counting. "We have 20 new truck farms in 20 different cities around the country this spring," said Cheney. "They have staggered planting times, being in different climates, but they're in cities ranging from Chattanooga, Tennessee, to Seattle, Washington. Each is going out as we do here in New York, teaching kids about where food comes from, visiting farmers' markets, and generally adding a bit of humor, spectacle and whimsy to events related to sustainable agriculture and eating."
So get on board! Truck Farm is currently being shown at select venues and events around the country; check the project's website below for locations. The DVD will soon also be available from the same site. And watch out—a truck farm may very well soon be on its way around your town!
Visit the Truck Farm website at www.truck-farm.com.
About the author