Alex Bogusky: The Consumer Revolution's Fearless Advocate
01 Jan, 2013
by Bruce Boyers
Alex Bogusky once lived a life right out of a modern-day Mad Men. He was an adver­tis­ing executive—a part­ner at the lead­ing agency Crispin Porter + Bogusky—at the top of his game, with clients such as cor­po­rate giants Burger King, Coca-Cola (for Coke Zero) and VW, as well as being the cre­ative mind behind the orig­i­nal launch of the Mini Cooper in the US. In 2010, Adweek mag­a­zine named him Creative Director of the Decade, and he has been referred to as "advertising's Elvis" and "per­haps the most influ­en­tial fig­ure in American adver­tis­ing today."
But a change in his life pro­duced a rad­i­cal shift in Bogusky's think­ing. Now he is bring­ing his con­sid­er­able tal­ent to bear on behalf of sus­tain­abil­ity, health, and full trans­parency in business.
"If you grew up in adver­tis­ing in my era, you grew up around the idea of 'story,'" Bogusky told Organic Connections. "All brands are a 'story.' And the story was pretty much always fic­tional. You still see that out there. The one that I think of right away is 'Coke Equals Happiness.' That's an extra­or­di­nar­ily fic­tional story. I think that within the next few years it will be as funny as 'More doc­tors rec­om­mend Camel cig­a­rettes than any other brand.' When peo­ple orig­i­nally heard that, it didn't trig­ger mock­ery or laugh­ter; but cul­ture changes, and things that seemed rea­son­able at one time don't seem rea­son­able anymore.
"The best brands give you a real-time accu­rate pic­ture of what the com­pany is all about. What are they really doing right now? It means full trans­parency, because we're going to have the tools, such as social media, to fig­ure that out any­way. So I'd say we're see­ing the sun set­ting on this idea of brands being fic­tional sto­ries, and in my view, none too soon."
The Change
It was two years ago that Bogusky took a dif­fer­ent turn, thanks in part to his new place of res­i­dence. "A few things con­verged," Bogusky explained. "One of them was that I had moved to Boulder about five years ear­lier. Boulder really has an effect on you, and that envi­ron­ment exposed me to a lot about food and our world that I hadn't been exposed to before. I was ready to just make a change, to try some things that were more in line with my val­ues; because I've always felt when your val­ues and your work are aligned, that's when you are really effec­tive. And I had had that most of my career, but not at the end."
And where had those val­ues run into con­flict? "Probably mostly around food," Bogusky replied. "I had been watch­ing the obe­sity epi­demic evolve. In my way of think­ing, for a time, it was all about por­tion con­trol, with maybe some of it attrib­ut­able to exer­cise. I actu­ally wrote a diet book four years ago called The 9-Inch "Diet," all about por­tion con­trol, 'por­tion distortion'—kind of an ad guy's view of why we're not able to man­age our por­tions. The basic mes­sage was that no one is to blame; we're very sus­cep­ti­ble to get­ting con­fused because of our human design.
"But I started to real­ize that it wasn't just the amount, it was also what we were eat­ing. The very sim­ple basic ingre­di­ents from when I was a young man weren't the same; the num­ber of food addi­tives and the amount of genet­i­cally mod­i­fied food that we were con­sum­ing had changed rad­i­cally over prob­a­bly the last 15 years. That cor­re­la­tion made me very sus­pi­cious. That's where I began to feel like, boy—I grew up on fast food, ate a lot of fast food, but I don't think the fast food that I ate is actu­ally the equiv­a­lent of what you might pick up at a restau­rant or the gro­cery store today."
Insurgents' Clubhouse
In 2010 Bogusky and his wife, Ana, opened a new firm in Boulder. They called it FearLess Cottage—an infor­mal club­house for insur­gents in a new con­sumer rev­o­lu­tion. Immediately Bogusky became engaged in issues more aligned to his new­found val­ues. "Pretty much the first guy who called me was Al Gore," Bogusky said. "We worked on some adver­tis­ing to debunk the myth of clean coal, which was pretty suc­cess­ful. I've been work­ing a bunch on cli­mate, but every­thing around sus­tain­abil­ity is fas­ci­nat­ing to me.
"More recently I helped some old friends from CP+B start an agency called Made Movement, which is about the resur­gence of man­u­fac­tur­ing here in the US. I think a lot of what con­cerns us about the way things are made—whether it's exploita­tion of work­ers, lead paint, safety con­cerns or dump­ing things in rivers—could be solved by bring­ing man­u­fac­tur­ing back to the US. We do a leaner, cleaner kind of man­u­fac­tur­ing here. So, as some­body who does care about sus­tain­abil­ity, I view 'Made in America' in a dif­fer­ent man­ner than oth­ers: I find it's a way into sus­tain­able man­u­fac­tur­ing and less exploita­tion of work­ers that every­body agrees with."
Changing Corporate Behavior
In the over­all chang­ing land­scape of the corporation-consumer rela­tion­ship, Bogusky sees the consumer's role quite dif­fer­ently than in the past. "I've felt for the last few years that there truly is this win­dow of oppor­tu­nity," he said. "Because of the Internet and what hap­pens online with trans­parency, there's an oppor­tu­nity for con­sumers to really change cor­po­rate behavior.
"Having been on the cor­po­rate side for most of my life, I notice that cor­po­ra­tions are very good at work­ing to keep gov­ern­ment out of their business—to push off reg­u­la­tion, to lobby to get the things that they want. I believe they are more pow­er­ful than gov­ern­ment now.
"But when con­sumers think any­thing, the cor­po­ra­tions really react, because they have to. I don't know whether con­sumers real­ize it, but with that cor­po­rate desire to get the dol­lar, they have enor­mous power. We have to move toward view­ing our­selves in line with the way the world works now. We have to think of our­selves as 'consumer-slash-citizens.' A lot of peo­ple don't even like to con­sider them­selves 'con­sumers'; but I always say, 'If you're not a con­sumer, prove it and stop breath­ing.' We all consume—that's a real­ity. We think of our­selves as vot­ing at the polls, but we also vote with every dol­lar. We should lever­age this moment to use social media to make sure that we amplify every­thing we feel about what we want to buy, the com­pany we want to buy from, and what our expec­ta­tions are for them. We have poten­tially a very trans­for­ma­tional time right now. I do worry a lit­tle bit that the win­dow is not open for­ever; whether it's SOPA [Stop Online Piracy Act] or other things, there are forces at play to cor­po­ra­tize the web. If that hap­pens, we've likely missed our opportunity."
Conscious Consumer Rights
Bogusky has cre­ated a "Conscious Consumer Bill of Rights," which takes the consumer's ele­vated role into account. The bill includes the right to be pro­tected against the mar­ket­ing of goods and ser­vices that are haz­ardous to health, life or the safety of our future. It calls for the right to be pro­tected against fraud­u­lent, deceit­ful or mis­lead­ing infor­ma­tion, and to allow for unre­stricted access to the com­plete infor­ma­tion needed to make an informed choice. It also asserts the consumer's right to be heard, so that con­sumer inter­ests receive full and sym­pa­thetic con­sid­er­a­tion in the for­mu­la­tion of gov­ern­ment policy.
Part of the empow­er­ment of con­sumers is edu­ca­tion. Over a mil­lion peo­ple have now seen a video Bogusky pro­duced for the Center for Science in the Public Interest called The Real Bears—a par­ody uti­liz­ing char­ac­ters sim­i­lar to those from a pop­u­lar series of Coca-Cola ads to tell the actual story of soda and its extreme neg­a­tive health effects. "At its most basic, we're try­ing to get peo­ple to under­stand soda's rela­tion­ship to American health," Bogusky pointed out. "It's not inher­ently sexy or enter­tain­ing, so the goal was to cre­ate some­thing that was enter­tain­ing enough yet still slipped in a whole bunch of facts and fig­ures about what's really going on; also some­thing that peo­ple felt was good enough for them to want to share it, because peo­ple don't gen­er­ally share the bad stuff that much—there has to be some hope. Shortly after it launched, we saw over a mil­lion views, so peo­ple obvi­ously have shared it. We're not done—I think we'll keep the char­ac­ters alive and keep push­ing it out there."
Click any image to enlarge.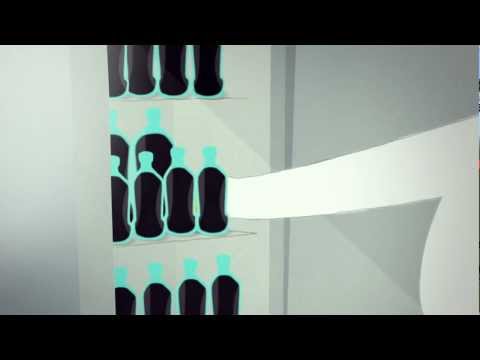 In another effort to edu­cate con­sumers, Bogusky cre­ated a series of pop­u­lar video ads in sup­port of California's Proposition 37—the Mandatory Labeling of Genetically Engineered Food Initiative. One of these ads had an all-star cast includ­ing Danny DeVito, Emily Deschanel, Glenn Howerton, Kaitlin Olson, KaDee Strickland and Kristin Bauer van Straten.
Cardboard Wisdom
It is evi­dent that Bogusky has a unique way of look­ing at the world. As an exam­ple, he's found inno­v­a­tive cre­ativ­ity in the card­board signs being held by peo­ple at inter­sec­tions and free­way ramp exits and entrances.
"When you're liv­ing on the street, the effec­tive­ness of your com­mu­ni­ca­tion mat­ters," said Bogusky. "Here in Boulder I began to notice signs that were cre­ative and some­times funny. Was this some­thing new? Was it effec­tive? I decided that as a fan of cre­ativ­ity I would buy the signs that moved me—it would be how I decided to give or not.
"This is an ongo­ing dia­logue through wind­shields across the coun­try between those that have slipped through the cracks and those who are still hang­ing on. I can't help but won­der, why does that sign say what it does? Why do the same themes and some­times the exact same words crop up on signs a thou­sand miles apart?"
Bogusky now car­ries with him card­board and mark­ers so that the signs he pur­chases can be replaced. In talk­ing with the peo­ple who made them, he has also dis­cov­ered a lot about the types of indi­vid­u­als out there—and that much of what he'd heard and read didn't hold true. "I learned that there are no two sit­u­a­tions alike, and the idea that every­body liv­ing on the streets is there because they have men­tal or sub­stance prob­lems is a myth," he said. "I also learned for myself that the myths that encour­age us to be less gen­er­ous have a cost greater than we realize."
The Road Ahead
Bogusky has not entirely turned his back on the big cor­po­ra­tions he used to have as clients, but he prefers the flex­i­bil­ity of smaller ven­tures. "I tend to like to work with smaller com­pa­nies sim­ply because if you're a big com­pany, you're big because you think with the exist­ing model. You don't want change, as change doesn't usu­ally mean good things if you're really big. Things are pretty good exactly the way they are; and if the big com­pa­nies could just leave them the way they are, they'd be happiest.
"But if they asked for my help, I would say—and it's really not very com­pli­cated, and whether you are Patagonia or Wal-Mart I think it works equally well—you look at your busi­ness and you ask, 'What would we most not want to see a lot of news sto­ries about, regard­ing the way we do things?' You iden­tify what that is, then you make a plan to at least par­tially address it. It doesn't have to get you to the fin­ish line—it just has to be the begin­nings of 'This is how we think we could begin to fix this.' Then you take the prob­lem and the solu­tion to your con­sumers. I think the 'Footprint Chronicles' that Patagonia did is one of the first and best exam­ples of that. But there are a lot of oth­ers." (The Footprint Chronicles is a cam­paign being con­ducted by Patagonia, show­ing the exact loca­tions, routes and envi­ron­men­tal impacts asso­ci­ated with the man­u­fac­ture of their cloth­ing line.)
For Bogusky the change in his life is per­ma­nent, and he has found his way. "I don't know if it hap­pens to every­body, but when I work on some of these issues I can get very depressed," he said. "I start to develop these the­o­ries of what change might look like and model those out in my head; and then what's hap­pen­ing day to day doesn't seem to match that, and it's hard to see progress. I was think­ing about the­o­ries of change and past great changes that I can recall, and what I've real­ized is that no one pre­dicted that the Cold War would end with peo­ple just smash­ing the Berlin Wall with sledge­ham­mers. And no one pre­dicted that tech­nol­ogy and ideals would con­verge to cre­ate the
Arab Spring.
"So I don't think we really know what change is going to look like, regard­less of how much we the­o­rize about those out­comes. The real­ity of how we change is way too com­pli­cated; it's almost like chem­istry. The thing that I know is that part of all pos­i­tive change is the open­ing up of dia­logue. Where I believe I can work best is in that space: mak­ing sure that peo­ple learn about things that they wouldn't learn about, and/or mak­ing sure that peo­ple are not intim­i­dated by any­body else to not talk about things they want to talk about. It's actu­ally proven that if we have open dia­logue, we're a con­tin­u­ally improv­ing soci­ety and cul­ture. When peo­ple try to stop that, they can stop it for a time but they can't stop it for­ever. So how I want to work is not think about what hap­pens, only think about, 'Hey, is this a space where there is more for peo­ple to know? Is this a space where peo­ple are being intim­i­dated and made afraid to say what they really think?' Those are the places that I'd like to help out, and let other peo­ple fig­ure out what actu­ally happens."
To dig deeper, check out www.fearlessrevolution.com.
GD Star Rating
load­ing...
GD Star Rating
load­ing...
Alex Bogusky: The Consumer Revolution's Fearless Advocate

,

9.0

out of

10

based on

4

ratings
About the author