Amy Kalafa: School Lunch
REVOLUTIONARY
01 Nov, 2012
by Bruce Boyers
Filmmaker Amy Kalafa once described her­self as a "shy, pri­vate per­son," who most likely would never have thought of being any sort of rev­o­lu­tion­ary. Yet she now finds her­self a key fig­ure in a revolution—the bat­tle­field is school cafe­te­rias and the issue is the health of our children.
It all started in 2007, when Amy made the ground­break­ing doc­u­men­tary Two Angry Moms, focus­ing her cam­era on the need to reform the state of food in our pub­lic schools. She thought that would prob­a­bly be the end of it—she'd tour with the movie for a few months, say her piece, and move on to her next project. However, since that time, pop­u­lar demand and con­stant inquiry have kept her front and cen­ter on the issue. In the inter­ven­ing years, she has cre­ated a non­profit orga­ni­za­tion with 9,000 mem­bers, and recently she even pub­lished a book, called Lunch Wars, which details for any­one how to start a school food rev­o­lu­tion in their area. Also to her credit, all of this work has been per­formed in addi­tion to hold­ing a full-time job and rais­ing a family.
"I had no antic­i­pa­tion of how big it was going to get," Amy told Organic Connections. "It was a lit­tle movie—I made it because it was impor­tant to me; and we didn't have a lot of money, so it was a low-budget film. But the issue got really big right at the time the movie came out. I don't know if it was the movie itself or the fact that the media paid a lot of atten­tion to the movie that ulti­mately gave the issue a lot of impact. It was on the cover of USA Today, and we were in the New York Times and in film fes­ti­vals. Then I trav­eled around the coun­try with it. Normally when you make a doc­u­men­tary, you go on the road with it for as long as you can—nine months, a year. It came out in 2008; it's now 2012 and I am still trav­el­ing around with the movie, which is totally amazing."
Two Angry Moms details the adven­tures of Amy her­self, who set off to film school dis­tricts all over the coun­try that were mak­ing strides in the fight for decent school lunches. Her story alter­nates with that of Dr. Susan Rubin, a den­tist turned nutri­tion­ist, who was already engaged in an ongo­ing bat­tle for bet­ter school food within her own dis­trict and was also cam­paign­ing gen­er­ally for bet­ter school food. The film takes the viewer through the unhealthy con­di­tion of school food as it exists in many schools, and then shows us what could be pos­si­ble and is actu­ally hap­pen­ing in places like Berkeley, California, where fresh food for the entire dis­trict is sourced locally. In fol­low­ing Dr. Rubin, we see the process of how ordi­nary par­ents can group together, work with food ser­vice per­son­nel and school admin­is­tra­tors, and bring off much-needed changes.
Wonderful Evolution
Since the release of the doc­u­men­tary, Amy has def­i­nitely seen a change in aware­ness in the audi­ences she addresses. "There's been a won­der­ful evo­lu­tion," she reported. "When the movie first came out and I would go to the screen­ings, there was even hos­til­ity. There'd be food ser­vice direc­tors or admin­is­tra­tors there who didn't want to be told that they weren't doing a good job, and that's what they thought the film did. Once they saw the movie, they would real­ize that the heroes of the film are school admin­is­tra­tors and food
ser­vice directors.
"Today, almost every­body who works in school food ser­vice real­izes that the food has to get bet­ter and that there are things they can do to improve it. They are much more open and wel­com­ing to sug­ges­tions. And par­ents and stu­dents them­selves real­ize that there's a cri­sis in children's health, that food absolutely impacts their health, and they all want some­thing else too."
Community Power
While many engaged in the school lunch bat­tle might point to the gov­ern­ment and its poli­cies and sub­si­dies as bar­ri­ers to change—and there cer­tainly are such issues involved—Amy points out the power a com­mu­nity actu­ally has through the cre­ation of its own well­ness pol­icy. Although the USDA man­dates require­ments for a lunch pro­gram, includ­ing min­i­mum nutri­tional stan­dards, it also charges every school dis­trict with cre­at­ing its own well­ness pol­icy that addresses nutri­tion and phys­i­cal edu­ca­tion of stu­dents within that school dis­trict. This encom­passes spe­cific qual­i­ties of the school food and the school food culture.
"With school lunch, you hear many peo­ple try­ing to polar­ize it," Amy said. "But really, school food is not a polit­i­cal issue. The way the man­date works for school food is that every com­mu­nity has to be respon­si­ble for its own school meal pro­gram. The gov­ern­ment sets some very basic stan­dards and guide­lines, and yes, it has require­ments, but it does noth­ing to tell your school dis­trict what the qual­ity of the food should be. That's totally up to not just the parents—it's up to the com­mu­nity. It's actu­ally a local issue.
"That's why I think there's so much power in school food, because it's incum­bent on the com­mu­nity to make its own well­ness pol­icy; every school dis­trict is required to have one. You can take that pol­icy right from the USDA web­site and have these very min­i­mum stan­dards; but if you want to do bet­ter in your com­mu­nity, you can have a well­ness pol­icy that's tai­lored to the needs and wants of your school dis­trict. Then it's up to food ser­vice and admin­is­tra­tion and every­body in the com­mu­nity to make that pol­icy work."
The Gauntlet
At the point a par­ent starts on this path, he or she will begin to run the gaunt­let of objec­tions from those who, for var­i­ous rea­sons, would rather leave things as they are. "A lot of it is myths and mis­con­cep­tions," said Amy. "You'll hear peo­ple say, 'Well, the kids won't eat healthy food.' You'll always hear, 'There's not enough money in the sys­tem to get bet­ter food.' You'll hear, 'We don't have kitchen space; we don't have equip­ment; our staff isn't trained.' 'The kids don't have enough time to eat a real meal.' 'We don't know how to source locally.' 'We can't afford organic food.' 'There are just not enough farms around; the demand out­weighs the sup­ply.' Food ser­vice direc­tors will say, 'I can't go to 16 dif­fer­ent sup­pli­ers; I get it all off of one truck'—and on and on and on."
But hav­ing seen plen­ti­ful exam­ples of how these bar­ri­ers can be over­come, Amy knows the path through them and has good advice for the rest of us. "There are cre­ative peo­ple out there with solu­tions to all of those chal­lenges," Amy asserted. "A lot of it has to do with hir­ing chefs to run school meal pro­grams. In many, many places, that's been a huge part of the solu­tion. A chef who's had restau­rant expe­ri­ence knows, first of all, how to make food that peo­ple like to eat, and also knows how to stretch a budget."
Several exam­ples of this kind of cre­ativ­ity are shown in Two Angry Moms. Berkeley, California, Unified School District hired Chef Ann Cooper, who imple­mented a fully local food sup­ply sys­tem for the entire dis­trict. ConVal School District in New Hampshire hired Chef Tony Geraci, who con­verted the stu­dent bod­ies to whole­some food by treat­ing them as cus­tomers, fully involv­ing them in the process of choice and edu­cat­ing them on food sources. And in Dr. Rubin's school, her com­mit­tee aided in hir­ing a chef to take over and con­vert the food sys­tem there.
A Personal Mission
Since the release of Two Angry Moms and its con­sid­er­able after­math, Amy has stuck by the school lunch issue mainly as a mat­ter of per­sonal passion.
"I am a doc­u­men­tary film­maker and I have to make a liv­ing," Amy said. "I have a kid in col­lege and all of that good stuff, so I work full time for clients. I think what's really moti­vat­ing me to stick with the school lunch issue is just the fact that peo­ple still want the help. My inbox every day is full of let­ters from peo­ple say­ing, 'This is ter­ri­ble! There's a cri­sis. Do you know what to do? How do we get it going?'—that kind of thing. So I act as a clear­ing­house of infor­ma­tion to help peo­ple get started. I also teach peo­ple how to be advo­cates, because that was not a skill I had when I began. I was this shy, pri­vate per­son, and I kept it to myself that I ate organic food and grew food in my backyard.
Click any image to enlarge.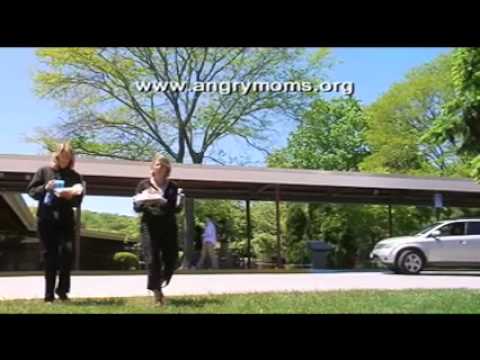 "I try to empower peo­ple to stand up and say, 'No! There's a bet­ter way to feed kids! And I know how to do it. Let's work together on it.' What moti­vates me, really, is hear­ing from so many peo­ple who are exactly where I was ten years ago."
Lunch Wars
Recently, in an effort to pro­vide more infor­ma­tion to those who need it, Amy pub­lished her book called Lunch Wars: How to Start a School Food Revolution and Win the Battle for Our Children's Health. "What caused me to write it was that I was get­ting, on some days, hun­dreds of e-mails from peo­ple who had a pretty long list of ques­tions as follow-up to the movie," she recalled. "I had cre­ated tem­plates for e-mails that I would send out in response to indi­vid­ual ques­tions, and I started col­lect­ing more infor­ma­tion and putting these tem­plates together."
The book is a how-to guide, which takes the reader step by step through the way to reform the school food scene in their area. It begins with hav­ing par­ents actu­ally sam­ple the cafe­te­ria food for them­selves. It instructs them on con­nect­ing with other con­cerned par­ents in their area. In plain English, it lays out the rules and reg­u­la­tions under which the school dis­trict must oper­ate. It enu­mer­ates the details of putting together a well­ness pol­icy. These and many more lessons thor­oughly arm any con­cerned parent.
"It's really a hand­book for any­body who wants to know any­thing about how they can get involved," Amy con­tin­ued. "I did it in chap­ters so that if you're inter­ested in school gar­dens, you can go to the chap­ter on school gar­dens; or farm-to-school programs—there's a chap­ter on that. I tried to make it a resource book so that you could read it cover to cover, but you could also go to a par­tic­u­lar sub­ject and just focus on one area of involve­ment. Because this is a huge issue. It's a lot to take on, and it can be quite overwhelming."
Ignoring Doesn't Work
One les­son Amy learned from her own expe­ri­ence, and from inter­act­ing with many other par­ents, is that school food is not an issue a par­ent can sim­ply ignore. "Every par­ent has their own way of react­ing to it," Amy said. "Parents who are very con­cerned will cer­tainly send their kid to school with a packed lunch, and that's what my hus­band and I did for many years. You can kind of turn a blind eye and think, 'Well, sorry for all those other kids, but at least my kid has good food.'
"As I learned when I made the movie, that's not true. Even kids who bring a healthy lunch will often trade it, or they'll dump it in the garbage. They have access to a lot of food that you prob­a­bly wouldn't want them to be eating—but that's the gen­eral school food envi­ron­ment. The school is basi­cally teach­ing kids that this is okay, and most kids want to be like every­body else.
"So every par­ent, once they real­ize what that envi­ron­ment is like, will prob­a­bly want to get involved at some level. It's really hard to ignore it. Susan Rubin, who was the other 'angry mom' in the movie, said she got involved when she started find­ing candy wrap­pers in her kids' back­packs every day when they came home. And she was send­ing them to school with a packed lunch."
In fact, Two Angry Moms begins with Amy her­self meet­ing with a staffer in her daughter's cafe­te­ria and look­ing through the com­puter to see that her daughter—who came to school daily with a packed lunch—had been buy­ing numer­ous items with­out Amy's knowl­edge. The list included cake, chips and numer­ous sweets.
"As a par­ent you have to find a way that you can be involved," Amy stressed. "It might just be, for exam­ple, going into schools and show­ing kids how to make a smoothie out of fruit—I met a mom who does that. What I tried to do in the book is give peo­ple lots of dif­fer­ent points of entry."
Although Amy would prob­a­bly like to move on, her con­science has not let her. "You see, I'm a film­maker, and it's like, 'Okay, next?' But this gen­uinely caught me up, and it is some­thing I'm so pas­sion­ate about," she said. "It wasn't just an inter­est­ing topic about which to make a film; I feel as if I have to keep going, you know? I have to, until I see that there's real sig­nif­i­cant change in the school sys­tems on a district-by-district level, and I think that we have a long time till we get there.
"But it's great to be part of this move­ment," Amy con­cluded, "and it feels really good to be doing what I can. I hope other peo­ple will feel that way too."
For more infor­ma­tion, or to obtain a DVD of Two Angry Moms, please visit www.angrymoms.org.
To join Amy's Angry Moms social net­work, visit angrymoms.ning.com.
Lunch Wars: How to Start a School Food Revolution and Win the Battle for Our Children's Health is avail­able from the Organic Connections book­store.
GD

Star Rating
load­ing...
GD

Star Rating
load­ing...
Amy Kalafa: School Lunch

REVOLUTIONARY

,

9.0

out of

10

based on

3

ratings
About the author