The Push for California's GMO Labeling Proposition
12 Apr, 2012
The recent FDA peti­tion drive from JustLabelIt.org found that over 90 per­cent of American's favor label­ing of GMOs. As you will hear in the video below, the BioTech giants are going to go into dis-information over­drive attempt­ing counter this sen­ti­ment. (But the same sur­vey also found that peo­ple aren't inclined to "swal­low" the BioTech party line!)
The next GMO label­ing bat­tle ground is in California. The California Committee for the Right to Know is push­ing hard to make a dead­line of April 22, 2012 to gather 800,000 phys­i­cal sig­na­tures to qual­ify a land­mark ini­tia­tive for the 2012 California Ballot. If it gets on the bal­lot and passes in November, this ini­tia­tive would make GMO label­ing a fact in the most pop­u­lous state in the US.
Because this is a California Ballot Initiative, the cam­paign needs in-person, phys­i­cal sig­na­tures. These sig­na­tures can­not be gath­ered online.
Visit LabelGMOs.org and find where you can go to sign the peti­tion and find out what you can do to help. It's time to show BioTech that the citizen's pen is might­ier than the cor­po­rate dollar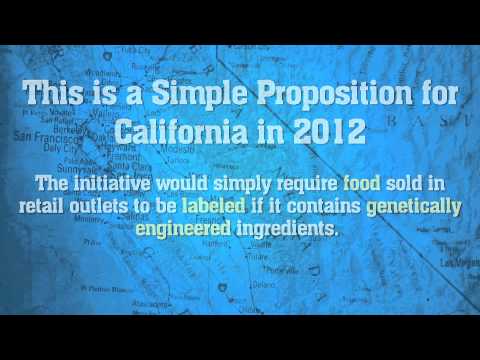 GD Star Rating
load­ing...
GD Star Rating
load­ing...
The Push for California's GMO Labeling Proposition

,
About the author