The Campaign to Fix Food and Fix Antibiotics
20 Jun, 2012
A new cam­paign to fix food and fix antibi­otics has just launched from a coali­tion of food advo­cacy groups, fea­tur­ing a video writ­ten and directed by Robert Kenner, direc­tor of Food Inc., and nar­rated by actor Bill Paxton.
Approximately 80 per­cent of the antibi­otics used in this coun­try are feed to live­stock. The pur­pose is to fat­ten the ani­mals and make them able to with­stand the unhealthy envi­ron­ment of CAFOs, Concentrated Animal Feeding Operations. To quote the cam­paign web­site, www.meatwithoutdrugs.org:
Americans are under threat from antibiotic-resistant super­bugs, mak­ing us vul­ner­a­ble to com­mon, once treat­able infec­tions. A remark­able 80 per­cent of antibi­otics sold in the U.S. are used not by humans, but by the meat and poul­try indus­tries so fac­tory farm ani­mals can grow faster and sur­vive crowded and unsan­i­tary conditions.

This is cre­at­ing super­bugs on the farm, and humans are exposed in a num­ber of ways, includ­ing when we han­dle or eat under­cooked meat. Our life-saving drugs are becom­ing less effec­tive when we really need them. Unfortunately, the U.S. Food and Drug Administration has refused to take mean­ing­ful action to restrict the use of unnec­es­sary antibi­otics in live­stock production.
The cen­tral idea of this cam­paign is that we as con­sumers can counter the inac­tion and inef­fec­tive­ness of the FDA on this issue and demand meat prod­ucts with­out antibi­otics of our food retail­ers. The first tar­get is Trader Joes. We urge you to take two steps:
1. Watch the video.
2. Go to www.meatwithoutdrugs.org and sign the petition.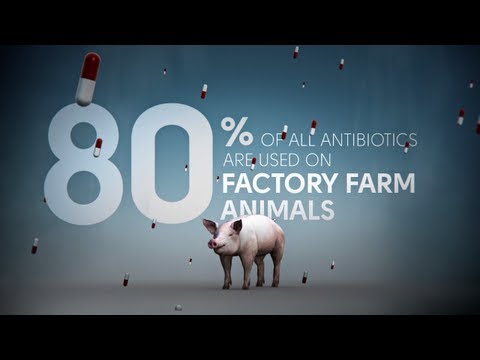 GD Star Rating
load­ing...
GD Star Rating
load­ing...
The Campaign to Fix Food and Fix Antibiotics

,
About the author