Wolfgang Puck: Living, Loving, Eating
01 Mar, 2011
We've all heard of Wolfgang Puck. His name appears on nearly 20 fine din­ing and more than 80 fast-casual restau­rants, world-class cater­ing ser­vices, and culi­nary mer­chan­dise, includ­ing kitchen­ware, cook­books and pre­mium pack­aged foods.
He has been fea­tured on numer­ous tele­vi­sion shows, demon­strat­ing, lec­tur­ing and being inter­viewed on his leg­endary culi­nary skills.
His orig­i­nal fame stems from his role as a chef and restau­ra­teur, begin­ning back in 1982 with his first restau­rant, Spago. Since its found­ing, Spago has been a din­ing home to an end­less parade of celebrities—and any­one else who appre­ci­ates the finest in culi­nary expe­ri­ence. It has won many awards from the restau­rant indus­try and is con­sis­tently rec­og­nized as one of the top eater­ies in the US. From the Spago stage, Wolfgang became (and is still) the offi­cial caterer to the Academy Awards® Governors Ball.
In cre­at­ing his cui­sine, a chef of Wolfgang's sta­tus is always seek­ing the finest in ingre­di­ents. Early on in his career, that trail led him to the weekly farm­ers' mar­ket in Santa Monica, California, where he would sam­ple and pur­chase the tasti­est locally grown pro­duce. The fla­vor of sus­tain­ably pro­duced ingredients—including meats—made it into dishes served at Spago. And he never looked back.
"Obviously peo­ple who like to eat well know we have great veg­eta­bles," Wolfgang told Organic Connections. "You can see the color; you can taste it; you know what is good. After a while peo­ple get the taste for such ingre­di­ents. Then they go to another restau­rant and come back and say, 'Well, it's not the same. How come your chicken is so tasty here and when I have it some­where else it's not the same?'
"The dif­fer­ence is very obvi­ous. If you go to a reg­u­lar gro­cery store and you buy corn there, for exam­ple, gen­er­ally you will get some starchy corn. My sons, who are small, 4 and 5, won't eat it. But if we go to the farm­ers' mar­ket and buy corn, they will eat it raw right there and then steamed every night. So, even the young kids know the difference."
Eat, Love, Live
In 2007, Wolfgang widened his appre­ci­a­tion for sus­tain­ably grown pro­duce and meats, express­ing it in a phi­los­o­phy he calls WELL (Wolfgang's Eat, Love, Live). He believes firmly enough in this phi­los­o­phy that it is now pol­icy for his restaurants.
The basis of WELL is a full under­stand­ing of where food comes from—and that it is respon­si­bly grown and (in the case of ani­mals) humanely treated. "What we have to do is go look at what farm­ers really do," Wolfgang said. "As an exam­ple, I went up to Idaho to meet the guy who raises our quails. I wanted to actu­ally see what they do. That's really the most impor­tant thing. It's easy when the farm­ers' mar­ket comes to town with their veg­eta­bles; but if some­body raises ani­mals in, say, Northern California on a small farm in a small town, it's dif­fer­ent. I actu­ally went and saw them because I didn't want to just buy some stuff and put my name on it when I didn't know where it came from."
In addi­tion to the praise of fla­vor, Wolfgang has had enthu­si­as­tic feed­back from cus­tomers on other points of the pol­icy. "Everybody, I think, has been very pos­i­tive about it, because some peo­ple are really con­cerned as regards, for instance, the caged animals—from chick­ens to veal to pigs," he said. "There is a whole move­ment for that. In some states they already have leg­is­lated that you can­not cage small ani­mals the way they have been doing in the past."
As we enu­mer­ated the nine points of the WELL pro­gram, we asked Wolfgang to com­ment on each one.
1: Only use and serve eggs from cage-free hens not con­fined to inhu­mane bat­tery cages.
"If you could see chick­ens in cages, which can­not even turn around, which can­not do any­thing, you would become a veg­e­tar­ian. You wouldn't eat any eggs; you wouldn't eat any chicken."
2: Only serve all-natural or organic crate-free pork. Crates pre­vent pigs from engag­ing in nat­ural behav­iors as basic as turn­ing around.
"It's a sim­i­lar thing. You go to this mass fac­tory farm where every­thing is about quan­tity and not qual­ity. In the reverse, you have farm­ers today who raise pork here in this coun­try Japanese style, the Berkshire pork and things like that, which taste so amaz­ing. So, for me, first of all is they treat the ani­mals right, and then the next thing is the fla­vor and taste, which are so dif­fer­ent we won't even con­sider any other way. One of our mot­tos is, 'We want to know how you treat what we eat,' and I think that's an impor­tant part."
3: Only serve all-natural or organic crate-free veal. Crates pre­vent calves from turn­ing around or even extend­ing their limbs.
"Well, we started that already a long time ago because peo­ple were so used to hav­ing veal com­pletely white, and we think that the non-white one has more flavor."
4: Only serve cer­ti­fied sus­tain­able seafood from a renew­able fish­ing supply.
"There is enough seafood out there that, if you are care­ful, you don't have to buy some­thing which is on the endan­gered species list, and items like bluefin tuna are endan­gered. But they even have farm-raised bluefin now in Spain and in Greece, so you can get it from there if that is what you really want, or what we want."
Click any image above to see a larger version.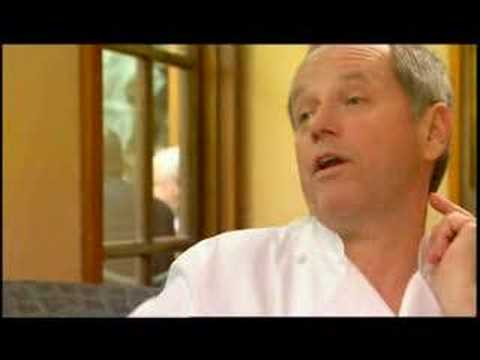 5: Eliminate foie gras from our menus. Force-feeding swells ducks' liv­ers up to ten times their nor­mal size.
"That took a lot for me because I really like it. Unfortunately we haven't found any­one yet to do it in a more humane way; but I'm sure sooner or later some­body will come along and pro­duce it with­out hav­ing to force-feed the ducks to that point."
6: Only serve all-natural or organic chicken and turkey from farms that are com­pli­ant with pro­gres­sive ani­mal wel­fare standards.
"We use chick­ens or we use ducks that come from a farm. So the same thing—we really know from where the ani­mals come."
7: Continue to fea­ture and expand cer­ti­fied organic menu selections.
"We use organic stuff when­ever we can. If we need bananas, it's dif­fi­cult to find organic bananas; but from cof­fee to a lot of other products—all the fruits, the vegetables—we get them from the farm­ers' mar­ket. And we are really lucky here in California because we have all these farm­ers who grow crops year-round, so it makes it easy to get things."
8: Continue to offer and expand veg­e­tar­ian selec­tions on all menus.
"We always are very flex­i­ble. First of all, we cook every­thing to order, so that makes it sim­ple. And then if some­body is a veg­e­tar­ian, I feel it's our chal­lenge to make just as excit­ing a menu for them as we offer for peo­ple order­ing from the reg­u­lar menu. As a mat­ter of fact, in our steak­house, CUT, we have a vegan menu."
9: Send a let­ter to sup­pli­ers regard­ing meth­ods of poul­try slaugh­ter that involve less suffering.
"Obviously every ani­mal has to be killed before we eat it, but mainly it is the way the ani­mals were raised and some­times how they are slaugh­tered. But we buy things from farm­ers who are in com­pli­ance, or from slaugh­ter­houses where they are com­pli­ant, with our philosophy."
In imple­ment­ing these WELL prin­ci­ples, Wolfgang believes in reach­ing out to grow­ers and pro­duc­ers who, whether cer­ti­fied organic or not, are pro­duc­ing in sus­tain­able ways. "I believe that if we want the local com­mu­nity inter­ested in us, we have to be inter­ested in them first," he said.
"That's true of our cus­tomers, and of the farm­ers and grow­ers who do things in an hon­est and right way. There are peo­ple who have sus­tain­able agri­cul­ture and use as much organic as pos­si­ble. Some of them make great things and don't use any pes­ti­cides or chem­i­cals, but they just can't afford to wait five years or what­ever to get the cer­ti­fi­ca­tion. At the end of the day I am very happy to sup­port peo­ple who can actu­ally grow things right and peo­ple who raise ani­mals humanely, so we are really on that bus."
Through this phi­los­o­phy, Wolfgang is also send­ing a mes­sage to the pub­lic at large to help them become edu­cated in the impor­tance of eat­ing healthy, nutri­tious food. "I think edu­ca­tion of the pub­lic is impor­tant because I believe that a lot of the health prob­lems we have out there are due to poor nutri­tion," he said. "People need to get bet­ter food that is really a source of life, which will make their lives bet­ter and will taste bet­ter and is more enjoy­able. How can some­body be against that? I truly believe that eat­ing right will help us to live longer and bet­ter lives."
Wolfgang con­cluded by demon­strat­ing how the WELL phi­los­o­phy dove­tails with another phi­los­o­phy of his: cook­ing from the heart and with love.
"I grew up in a cook­ing fam­ily; my mother was a chef. You could look at her when she cooked some­thing and see how much love she put in it. Food obvi­ously tastes bet­ter when you feel the love and you feel the pas­sion for some­thing. It might be a sim­ple veg­etable plate or some roasted pota­toes or what­ever it is. I remem­ber my mother dig­ging the first pota­toes out of the soil in late sum­mer and boil­ing them. We used to eat them with some cucum­ber salad—just pota­toes with a bit of but­ter and sour cream and a lit­tle sauce on them. It seems like the most sim­ple thing, but we always were so excited about it because it was fresh, right out of the ground, and it tasted great."
For more on Wolfgang Puck and his WELL phi­los­o­phy, visit www.wolfgangpuck.com/green.
GD Star Rating
load­ing...
GD Star Rating
load­ing...
Wolfgang Puck: Living, Loving, Eating

,

10.0

out of

10

based on

1

rating
About the author